Football at the Sportscenter, Billund IF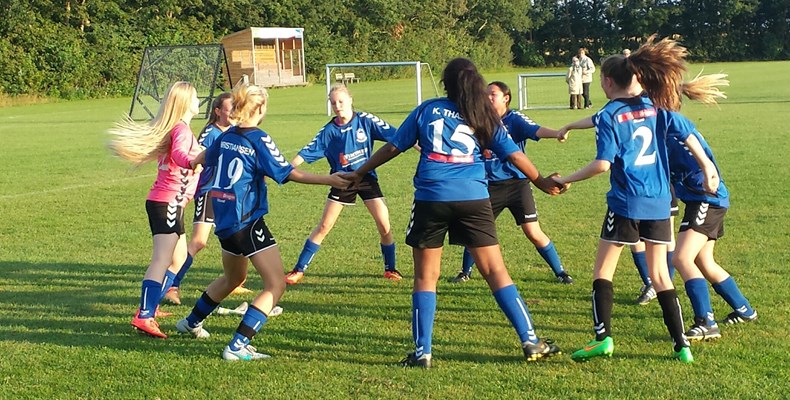 Children from the age of 5 can join a football team at Billund IF.
Training is also available for teenagers and adults, both men and women.
Teams meet once or twice a week, depending on age, for training sessions at the sports center, and many of the teams participate in official matches or tournaments.
Teams are divided by age group, and led by a couple of trainers, who are all volunteers at the club, ensuring fun and educational training sessions, with a focus on helping the children improve their football skills.
The club depends on the parents to lend a helping hand, especially for the teams of the smaller children, helping the trainers set up training, such as getting cones and balls ready, tying shoelaces, and just being there to help (no football experience required). If you would like to volunteer on a more permeant basis, let the trainers know, or feel free to reach out to the board and we will set you up with a team.
You do not need to turn up with any special equipment, but football boots – for a better grip – and shin pads – to avoid getting bruised shins – are recommended (and required for older children). No prior knowledge or experience is required, but it is a good idea to go over the basic ideas of football with your child if they are very young or new to football.
Keep an eye on this website to see when training suitable for you or your child will start.
If you press "info" to the right, you will be able to see the timetable, name and contact information of trainers and prices. This is also where you pay, by choosing the team you want to join and press "tilmeld".
We hope you are encouraged to try it out. Note that you do not have to sign up to play as the first 3 sessions are free of charge, and you can join the team at any time during the season. However, you do have to pay before you are allowed to participate in matches.
If you have any additional questions, have a chat with the trainers at the first training, they will be able to help you and answer most questions you might have about the club and training, alternatively feel free to email me at; lonelees@gmail.com or PM me via Facebook messenger.
On behalf of the football board in Billund IF Fodbold
Lone Okholm Lees
www.billundfodbold.dk